Located in Upstate, NY

Patty Mondore's
"Proclaim His Praise in the Islands" ©
** Special Fall Package **
Buy the book AND the movie
for only $25.00 (to order now see below)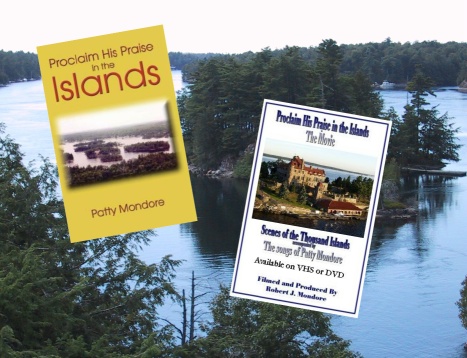 Music video available on either VHS and DVD
Proclaim His Praise in the Islands © video is a nature and Thousand Islands music video with inspirational songs of a spiritual (biblical) flair. This praise music has wildlife, ships, both real castles (Boldt Castle and Jorstadt Castle) and other scenes, all from the beautiful Thousand Islands on the mighty St. Lawrence River on the northern border of New York State and southern Canada. Scenes include Hoover, the famous Thousand Islands chipmunk (played by himself). Also includes the new, "America, Keep Praying," Patty's patriotic tribute to America featuring flowing flags, magnificent church buildings, and ending with fireworks from Boldt Castle. You'll be inspired, for sure!
Original music creation/Singer/songwriter: Patricia Mondore
Producer and video concept originator: Robert J. Mondore
Patty's book, Proclaim His Praise in the Islands includes 24 stories about the Thousand Islands, its history, its attractions, its wildlife, its not-so-wildlife (including the original Hoover story) and, of course, its Creator. You'll be inspired!

To promptly receive this book/music video package by mail with a Credit Card payment (on a secure server), click on the shopping cart below. For payment by check or money order, please send as detailed below. $25 plus nominal shipping charge of only $2 added.
For Credit Card payment:
Important: be sure your option is showing below (DVD or VHS), if not, please select it:

For check or money order payments send $27.00 (Shipping is included in this price. If NY State: add sales tax.)
Please send to:
Gold-Mountain
PO Box 123
Jamesville NY 13078
Express Lane to other Gold-Mountain productions.
Robert J. Mondore,
owner & producer
Gold-Mountain
PO Box 123
Jamesville NY 13078
Back to Home .
(Copyright 2003 - all rights reserved)