presents
Hoover's Page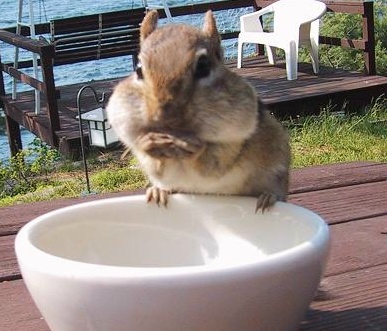 Official Web Site of Hoover, the famous Thousand Islands Chipmunk

See Hoover in his starring role in River-Lations
the Dove-approved Thousand Islands Nature music video)

Or, see and hear the Hoover song as featured on YouTube
(taken from the Proclaim His Praise in the Islands music video)

See Hoover's picture on the premiere Thousand Islands website!

Hoover stars in his first YouTube hit:
The Attack of the Killer Chipmunk

You asked for it. You got it! Welcome to the Official Hoover, the Chipmunk Web Site. Hoover is, as far as we know, one of the only living chipmunks in the world who can claim his own music video, his own song on a music CD, his own chapter in a book, and the subject of numerous inspirational articles. And now, hs own web site. How did it all begin? Why is this chipmunk different than any other? To help you get to know this now Internationally reknown celebrity a bit better, let me quote a few introductory paragraphs from a chapter in my book, Proclaim His Praise in the Islands. Introducing.....Hoover:
His little brown face was peering through the porch screen. I leaned over and whispered to my husband, "I think he's trying to get your attention." Earlier, we had seen the small striped chipmunk foraging for seeds under the bird feeder and Bob, being the soft touch that he is for wildlife, had gone out and set the feeder on the ground. Before he even got back to the porch the chipmunk had discovered the great feast, climbed right in and began stuffing himself with seeds. When he had reached capacity, cheeks puffed out with seeds, he scampered happily away to store his great spoils. Assuming he had thoroughly satisfied his customer, Bob went out and returned the feeder to the tree. As Bob reached the porch, however, the chipmunk arrived back to the scene to discover that his banquet had been removed. This customer seemed to know exactly where to register his complaint. He scampered up the porch steps, stood up on his back feet and peered through the screen directly up at Bob as if to say, "Please sir, might I have more?" Thus began Bob's unique relationship with Hoover.

Seeing the little creature's longing little face, Bob was motivated to action. He jumped up, grabbed the bag of seeds and ran out to reward his newfound friend generously for seeking him out. He poured a large handful of seeds on the picnic table and the chipmunk jumped up and began scooping them into his mouth as fast as a vacuum cleaner. That was how our little pet earned the name "Hoover." After he had stuffed his cheeks to capacity, he hopped off the table and disappeared from sight. Once again, we assumed he had gotten his fill. Once again, we were mistaken. Within moments, Hoover was back to vacuum up what he hadn't consumed on the first trip. We quickly discovered that no matter how much seed we set out, our chipmunk was up for the challenge and would make as many trips as was needed to keep up with us. Each of his little trips was to empty his cheeks, or as Bob put it, to download his supplies into his burrow...Before long, we could sit right at the table while our little friend happily consumed his food. One day Bob put some seeds in the palm of his hand and offered them to Hoover. After carefully assessing the situation, the chipmunk decided there was no danger in eating from his hand. In time, he became so trusting that he climbed completely into Bob's hand and contentedly dined while Bob gently stroked him with his finger. He would sometimes even try to walk up Bob's arm and look into his face with that same "might I have more?" expression....

...Hoover taught me a delightful lesson in grace that summer. When I think of him bounding over to Bob I think of the words, "Let us then approach the throne of grace with confidence, so that we may receive mercy and find grace to help us in our time of need" (Heb 4:16). God wants to meet our physical needs, but longs to give us so much more. Hoover will never be able to experience an intimate relationship with Bob, but God created mankind for the very purpose of having a personal love relationship with Him. All He asks is that we come to Him, to receive His great love, and to love Him in return. He longs to pour His boundless grace upon all who seek Him. He said, "I came that they might have life, and might have it abundantly" (John 10:10). Love, grace, abundance and, above all, an eternal love relationship with Him await all who come.
Hoover came in to our lives over ten years ago, now. The average chipmunk lives about five years but we continued to spend our summers with our favorite chipmunk for almost eight years. We think it must be all that extra protein he's been getting over the years. Our little friend had become much more than just a wild animal living in our yard. He was like a pet to us (and if you see him on film I think you'd have to agree he feels the same way about us) and has become the source for inspiration that has now produced numerous stories, songs and even a music video. When we released our first music video, Proclaim His Praise in the Islands, the song about Hoover, that included many of the film clips and photos we have taken of him over the years captured the hearts of everyone who viewed it (pictured is the leading 'munk himself pictured by his debut movie).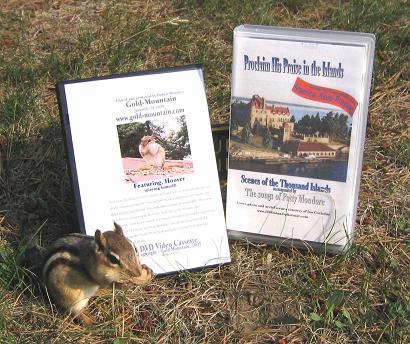 Now, we realize chipmunks cannot live forever. It has, in fact, now been a few years since our favorite chipmunk came to visit us each week. But we hope the memory of this small member of God's creation will remain long after he, and for that matter, we are gone. We have the feeling that Hoover might have also left us a little more than just memories. Shortly after he stopped coming to visit, several other young chipmunks quickly learned to eat peanuts from our hands (or, shall I say, several new chipmunks quickly taught us how to feed them peanuts from our hands). And for what it's worth, they sure look a lot like Hoover. Maybe he was doing more with all those peanuts than eating them himself. In fact, perhaps he wasn't so alone on all those long winter nights as we had first envisioned. At any rate, keep an eye out for a new generation of chipmunk tails...er... tales. We will be adding new stories and updates to the Hoover page. If you have any questions or comments about him we would love to hear from you. Perhaps we will even include some of those comments here.

The song I wrote about Hoover, "The Chipmunk Song," is also recorded on my music CDs (available on my music page.) The movie, CD, and book are all also available at the St Lawrence River Gallery and Corbin's River Heritage in Clayton, NY, the Curiosity Shoppe, Riverbank Gallery, the Ship Gift Store, and the New York Shirt Company, all in Alexandria Bay, NY.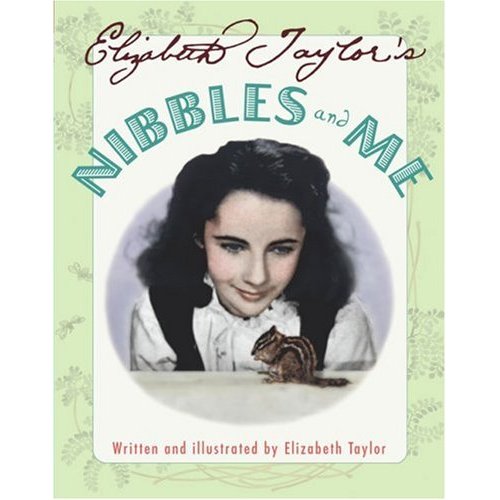 Elizabeth Taylor also had a chipmunk friend, as detailed in her surprisingly interesting book titled: "Nibbles and Me". Originally published in 1946 and written while she was still a child. She also drew the illustrations.
---
Hoover's Favorite Links:
YouTube - (Starring himself, of course)

River-Lations: A Thousand Islands Inspirational Music DVD - Hoover's star performance on music video

Proclaim HisPraise in the Islands - A music DVD featuring the Hoover Song

Proclaim His Praise in the Islands - The Book (including the story that started it all

The Other Famous Chipmunks (you remember Simon, Theodore and Alvin, right?


Hoover's Family (nature page on the chipmunk)

The Thousand Islands (Home of Hoover)

Gold-Mountain (Hoover's Pet Humans, and their online ministry)

Hoover's Favorite Bible Verses

Chipmunk picture to color with crayons
---
Thank you for visiting Hoover's page. Please stop by again. We'll be adding more stories and pictures of the most famous chipmunk in the Thousand Islands.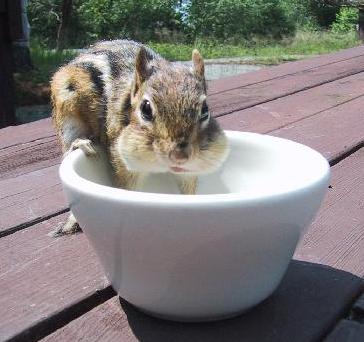 Express Lane to Gold-Mountain products.
Gold-Mountain Home | Patty's Page | Jorstadt Castle Page | The Movie Page