Located in Upstate, NY
Patty Mondore's Newest Music Video

** Special Offer **
Buy the movie (DVD or VHS) and get the music CD free
Special price of $20.00 (to order now see below)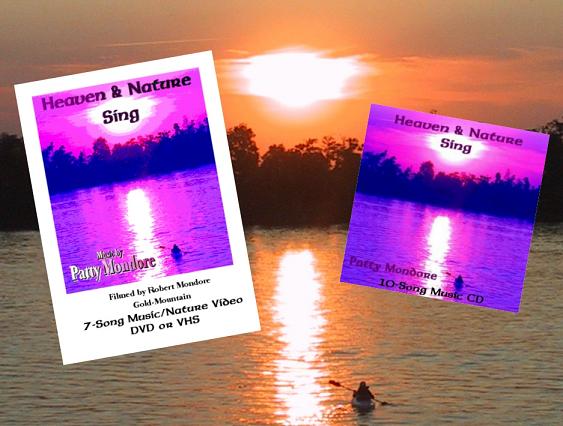 Music video available on either VHS and DVD


Heaven & Nature Sing © DVD is the newest and best music video Gold-Mountain release so far. It is a nature and Thousand Islands music video featuring seven new inspirational songs by Patty Mondore. This 30 minute movie has wildlife galore, ships, lighthouses, castles (Boldt Castle and Singer Castle) and other scenes, from the beautiful Thousand Islands on the mighty St. Lawrence River on the northern border of New York State and southern Canada. Scenes also include a return performance by Hoover, the famous Thousand Islands chipmunk (played by himself), along with Great Blue Herons, loons, hummingbirds and numerous other up close and personal encounters with wildlife. Want a sneak preview? You can now see the full title song, "Heaven & Nature Sing" at YouTube and "Ask the Animals" on GodTube. You'll be inspired, for sure!

All original music as performed by singer/songwriter: Patty Mondore
All scenes filmed by: Robert J. Mondore
Patty's CD, Heaven & Nature Sing includes 10 all-new songs. Read her three-star review given by Mark Bialczak in the Syracuse Newspapers. To promptly receive this music video/CD package by mail with a Credit Card payment (on a secure server), click on the shopping cart below. For payment by check or money order, please send as detailed below.
See also:
The Syracuse Post-Standard / Stars rave music review.

NOTE: Gold-Mountain is pleased to be a sponsor of the CNY Children's Hospital in Syracuse, New York. To order a copy of Heaven & Nature Sing, and have 50% of the proceeds go to the Children's Hospital, check out this page.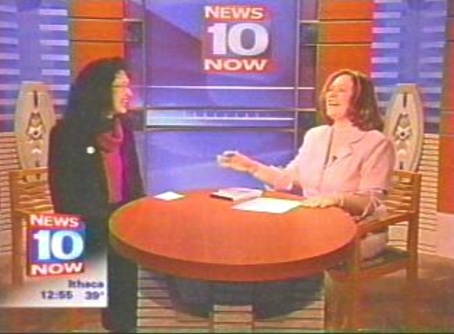 Patty, promoting the Children's Hospital fund 3/20/04 on NEWS 10 NOW, being interviewed
by Tammy Palmer about Gold-Mountain's support of the hospital. Photo by RJM.
Click here to hear sound file of interview (about 1 megabyte), including sample of music.
NOTE: If you wish to support the CNY Children's Hospital with your purchase, please call the SUNY Upstate Foundation Office at (315) 464-4416 to order your copy of Heaven & Nature Sing in either the movie (DVD or VHS) or the music CD.
See unsolicited and unpaid testimonial (capital letters in original):
"BOB, YOU GUYS ARE AWESOME. I WATCHED YOUR DVD THE FIRST TIME WITH MY MOUTH OPEN (AND A FEW MORE BECAUSE I WAS HOOKED). I WAS JUST IN AWE OF IT ALL. YOUR WIFE [PATTY] HAS THE VOICE OF AN ANGEL! I LOVE THE THOUSAND ISLANDS AND YOU WERE ABLE TO FILM IT AT ITS VERY BEST. ALL I CAN SAY IS WOW! THANK YOU SO MUCH FOR SHARING THIS WITH ME. IT TOUCHED MY SOUL."

---Terry Dunn, records coder at Upstate Hospital (SUNY Upstate Medical University), Syracuse NY
(Unpaid, unsolicited, independent testimonial)

If not donating, use the following options for immediate shipment:
Important: Credit Card orders, be sure your option is showing below (DVD or VHS), if not, please select it:

For check or money order payments send $20.00
(Shipping is included in this price. If NY State: add sales tax.)
Gold-Mountain
PO Box 123
Jamesville NY 13078
Express Lane to other Gold-Mountain productions.
See what Gold-Mountain is all about...
Enter Here for our Front Door:
Robert J. Mondore,
owner & producer
Gold-Mountain
PO Box 123
Jamesville NY 13078
(Copyright 2003 & 2004 - all rights reserved)