Located in upstate New York

Singer Castle Special!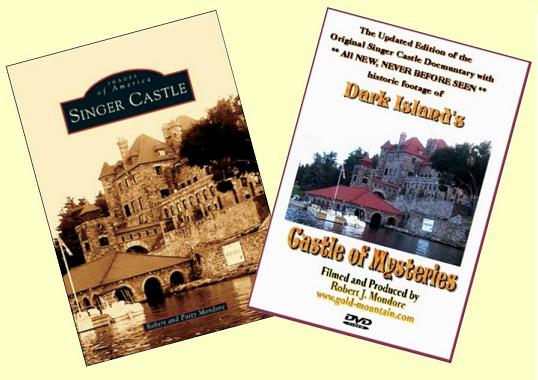 "Dark Island's Castle of Mysteries" DVD and " Singer Castle" Book



Purchase our special Book/DVD package available only through this website.


(

See below for special online pricing

)



Gold-Mountain is pleased to offer our online customers this specially priced purchase of our best selling documentary DVD video of Singer Castle along with the companion historical book from Arcadia Publishing Company. Take an audio and visual tour of this popular new tourist attraction located in the lovely Thousand Islands region on the St. Lawrence Seaway. First released in 2002, Dark Island's Castle of Mysteries is an hour-long movie with an insider's view of the history and the mystery surrounding the Castle located on Dark Island. You will tour this magnificent 100 year old castle modeled after Sir Walter Scott's Woodstock, wander through its secret passageways, peek into its dungeons, and explore its lovely grounds. You will hear the fascinating history starting with its original owner, Frederick Bourne right through its recent sale making it one of the most popular tourist attractions in the Thousand Islands area. You will discover it's exciting Hollywood movie connection.

ALL NEW in the 2006 update:
An all-new tour revealing the marvelous renovations done by the new owners.
Underwater diving scenes of the sunken ship, the S.S. Keystorm, near Dark Island.
Historical photos and movies of several of Frederick Bourne's many boats and ships, including the Moike now on display at the Antique Boat Museum in Clayton
Never before seen by the public - pictures of Frederick Bourne, himself, along with various members of his family.

Actual vintage movie footage of the Castle taken by Frederick Bourne circa 1916.
Professionally replicated and manufactured DVDs playable on any DVD player

And much, much, more! As the New York Times put it, the Castle on Dark Island truly is a "Castle of Mysteries."
_________________________
Singer Castle: Images of America Series

(the book)

Read about Commodore Frederick G. Bourne (former president of the Singer Sewing Machine Company) and his Singer Castle,
the Thousand Islands castle that was really used. Formerly known as The Towers or Jorstadt Castle, learn about its rich history.
Brought to you by the producers of the movie, Dark Island's Castle of Mysteries.
Authors: Robert J. and Patty Mondore
<>Singer Castle ISBN: 0738537640 128 pages 200 photos! Price: $19.99 <>
<><>Publisher: Arcadia Publishing, Amerca's leading publisher of local and regional history.
____________________________________
You will have to see it to believe it.
Concept originator, Producer & technical engineer:
Robert J. Mondore;
Executive Assistant:
Patricia A. Mondore.
© 2006

Purchase either the book or the DVD separately for only $19.99 each.

ONLINE SPECIAL!

Purchase our book/DVD package for only $29.99 with free shipping in the USA!
Express Lane to other Gold-Mountain productions.