Located in upstate New York
See the update note.
All orders through this page or the update page
will be for the upgraded version at the never seen before special lower price!

"Dark Island's Castle of Mysteries"
(Singer Castle, previously known as Jorstadt Castle,
on the St. Lawrence river in the Thousand Islands)
© Gold-Mountain 2002 through 2010 - all rights vigorously reserved
Fast paced, fascinating documentary/biographical video

You can make purchase on this page for direct and quick shipment.
Visit our friends at Singer Castle.
Robert J. Mondore, Producer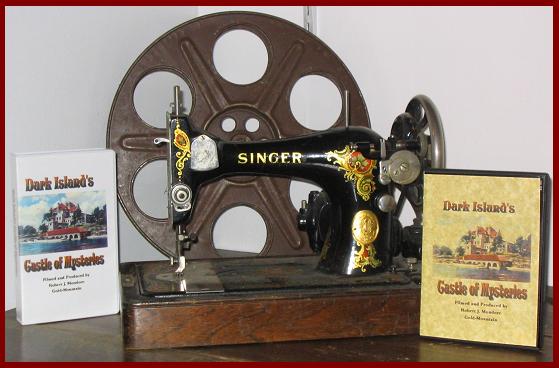 Rave reviews pouring in:
"I've just finished watching your video and am I impressed! You certainly did
your homework. The research that has gone in to this is evident, particularly
to one who has done some research himself. You've uncovered information and
images new to me. I think this production represents the state of the art,
regarding all that is known about Dark Island. Congratulations on a
smashing success! ... I'm confident that the new owners of Dark Island
will be thrilled with what you have done. ... Thanks for your substantial contribution
to our regional history."
---Unsolicited, unpaid tribute from:
S.U. Professor Paul Malo
(Producer's note: Mr. Malo, Syracuse University Professor Emeritus, is the renowned
author of recent blockbuster books. The first titled: Boldt Castle - In Search of the Lost Story.
A major bestseller in the North country regarding the other 1000 Islands castle.
Also, see the Professor's wonderful book Fools' Paradise).
See picture of the Producer with the Professor, taken at the authors autograph table
during the acclaimed Antique Boat Show in Clayton on August 2, 2003
after our video was successfully presented during the Speakers Forum in the Antique Boat Museum.
(We were together again at the authors autograph table in 2004)
----------------------------------------------------------
"[I and my Princess] watched it together. We both enjoyed it and thought it was very informative.
We especially liked the tour of the castle... I will keep this tape, and show it to our friends
who have an interest in castles. Thanks again".
---Unsolicited, unpaid tribute from:
Jim Dupont
(Producer's Note: Mr. Dupont has, perhaps, the largest website on the Internet about modern castles.
He is also building his own castle and shows the progress on his web site.)
----------------------------------------------------------
"We watched one of the copies immediately and were really impressed...
The ones for the [adult] children are tucked away [for Christmas]...
It was indeed a great production and we enjoyed it very much...
Again, thanks a lot for a wonderful job. It will be a keepsake forever..."
---Unsolicited, unpaid tribute from:
A.K. in Chatham, Ontario, Canada
----------------------------------------------------------
"I must speak of your video...Simply, it's fabulous.
[The] photography is superb, [the] script and background music grand.
[The] narration is lovely and clear -- easily understood and followed...
Five stars and three thumbs up!
Bravo and Brava."
---Unsolicited, unpaid tribute from:
Madge Wilson
Hampton, VA
Note: the above is a retired editorial writer for the Times-Herald in Newport News, VA.
She also has a host of impressive related credentials in the reporting/newspaper industry.
----------------------------------------------------------
"Wow, that was fantastic, just fantastic! We just came down from viewing it.
We loved it! We are really excited about it!"
---Unsolicited, unpaid tribute from:
Rev. Harvey and Flo Jones
Lake Placid, Florida
----------------------------------------------------------
"It's very good! I hate to think how much work went into it. It's
clear that this wasn't the work of a moment. Lots of very
interesting stuff including a lot I didn't know and I thought I had a
pretty good grasp of it all. For the tourist or river person with
only a casual knowledge of it, it is a treasure trove of interesting
information and ... might be the definitive look at the
castle in more or less it's original state. Very well done.
When the deck clears a bit around here I'm going to enjoy tucking
back into it and enjoying our favorite castle some more.
Many thanks for getting this great story down on plastic [DVD]
so that it doesn't get lost to the ages."
---Unsolicited, unpaid tribute from:
Ian Coristine
Hudson Heights, Ontario, Canada
(Producer's note: Mr. Coristine, in our opinion, is
the premier Thousand Islands photographer in all the world.)
"...so that it doesn't get lost to the ages." We are very humbled.
----------------------------------------------------------
In the newspaper, The Syracuse Post-Standard
---
"Dark Island's Castle of Mysteries" has arrived!
( © Gold-Mountain 2002 through 2010 - all rights vigorously reserved)
What does Sir Walter Scott's Woodstock have to do with a castle in the Thousand Islands?

What other famous castle (besides the renowned Boldt Castle) is there in the Thousand Islands?

What castle is in the Thousand Islands which was owned by a "Bill Gates" of another era, indeed, whose wealth made Boldt look like a pauper?

George Boldt's castle was never lived in by anyone, this one was really used for a century.

Why were secret passageways and labyrinths constructed throughout the castle?

What fascinating thread unites different & non-related owners of the castle from the very beginning to the very recent past?
How is it that 9/11 is mentioned in this documentary?

How does a famous Tiffany window all the way down in Jekyll Island factor into this video?
Is it possible that a super rich man could lead an exemplar life?

Urban Rumors about the Commodore are popping up everywhere, even in major newspapers. Find out the real history from this seriously researched video. This production is a fast-paced documentary/biography, approximately 1 hour long.

These questions, and many more, are answered in this video!
---

This documentary video is a tour of the past, a man and a castle he built. About a president (Commodore Frederick G. Bourne) of a worldwide industry (the Singer Sewing Machine Company) and a tour of the castle he built...now known as Jorstadt or Singer Castle on Dark Island. (Bourne called it the Towers). This is for history buffs as well as those interested in a castle located in the Thousand Islands and the era from the 1890s to the early 1900s, i.e. the Gilded Age (plus much, much more). This is a positive film. Amazing in this day and age that you can find a documentary video such as this! There are a lot of web sites containing information on this castle, but this video is different and has information not generally known, even by researchers. Recently the castle was purchased by American Castles Holdings Ltd, and they will conduct Dark Island Tours in the future. Indeed, in our long and deep investigations we uncovered many things that even the past owners of the castle did not know about...stuff you will not find anywhere else, no matter how hard you try (and certainly not found on any other web site)! We know - we've looked. This is a retro-look into the past, a century ago, as well as raw modern footage of the mansion, inside and out. This makes history interesting! ...

Some of the super heavyweight artists represented in this documentary are (in alphabetical order):
Ian Coristine (premier Thousand Islands photographer)
John A. Morrow (famous artist in the north country)
Michael Ringer (famous artist in the north country)
Please click on their names to visit them on their own web sites.

This is a major project with many surprises and exclusives. This information is not even known or revealed on the summer castle tours! This is now the standard for this castle's history. It is the one everyone is talking about. You will wind through the secret passageways, the labyrinth and even get a glimpse of the dungeon. But wait. There is much more. We will take you back in time to the historical milieu of when the castle was built. You will see movie clips and pictures from the same era as when the castle was built and when Commodore Bourne was president of the Singer Sewing Machine Company (late 1800s to early 1900s). (Designed by the famous architect Ernest Flagg). Actual Singer Sewing Company memorabilia (not reproductions) are shown from the producer's own private collection. Also, two of Northern New York's most famous artists will have their artworks featured (as named above). Some of the information we have discovered about Commodore Frederick G. Bourne, the builder of this castle is exclusive. After becoming president of the Singer Sewing Machine Company, he became one of the super-rich. Yet, surprisingly little is publicly known about him, not even pictures of him can be easily found. Why? We wondered. Our investigation came up with fascinating antique pictures and surprising century year old information. Additionally, a special feature: there is a movie clip from a major motion picture recently seen in theaters everywhere, namely, The Skulls . Shown in our documentary are clips where Jorstadt/Singer Castle on Dark Island were used as a short backdrop in the movie. Yes, we have an exclusive contract from Universal Studios, Hollywood! In spite of the hype to sell that film, The Skulls was a film about choosing right from wrong (shhh, don't tell anyone). Yes, we have been even surprising ourselves on how much we have amassed for this project! Did you know that they actually had video back in the late 1890s and before 1910? To give you a view of the milieu, we even feature some of these actual video clips from that bygone era (not modern recreations, but the real thing! Some of the earliest known videos!). Other period artifacts and advertising will also be shown. We even have a descendant of Commodore Bourne pictured at the castle, taken recently. You don't want to miss this! This is a very positive video, as well as very informative and fascinating. A positive video regarding vital history in the Thousand Islands region.
Concept originator, Producer & technical engineer: Robert J. Mondore; Executive Assistant: Patricia A. Mondore.
© Gold-Mountain 2002 through 2010.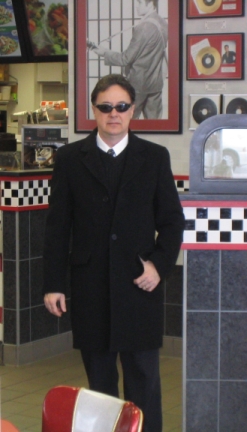 Producer


Click on picture for sunset view of the river.
Movie is approximately 1 hour long - DVD
Now reduced to only $14.95 and free shipping in the U.S.A! Click on update link at the top of this page for Credit cards.
Checks & Money Orders may be sent to:
Gold-Mountain, PO Box 123, Jamesville NY 13078
(NY State add 8% Sales Tax)

Click here to personally contact Bob.

If you've seen the movie, be sure to see the book!
Express Lane to other Gold-Mountain productions.
(© Gold-Mountain 2002 through 2010 - all rights vigorously reserved)
Gold-Mountain entrance page.