Patty Mondore's first book by a major Christian press is here!

Her book, A Perennial Faith, is ready for immediate shipment, along with an autograph and any inscription by the author (great for gifts!).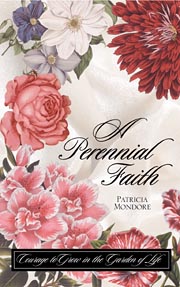 Many are already familiar with Patty through her singing ministry, which includes overseas concerts, music ministry at a real castle (Jordstadt) in the Thousand Islands, as well as her own release of recorded music on CDs (music also available on this Gold Mountain site).
This is a book about faith and how to grow it. Patricia Mondore shares a wealth of wit and wisdom from her experiences in the garden. Through her own successes and failures, Patty shows how every aspect of life, whether good or bad, can be used to increase our faith.
You'll laugh at her blunders (try not to plant your bulbs upside down) and rejoice in her triumphs (even a dead stump has potential). But most of all, you'll be inspired as you discover along with her, the fingerprints of the Master Gardener. Inside, you'll find:
One hundred lively devotions

Many scriptures and spiritual principles

Gardening tips and fun facts
Whether you are an avid gardener, or an armchair admirer, A Perennial Faith will help every heart to find that good ground where faith can grow.

Discounted directly through us, this hard-cover book can be purchased for only $9.95.

Buy now direct from us and have your book exclusively autographed along with any reasonable inscription (for example: Happy Birthday, Happy Anniversary, Happy Gardening, Have a wonderful summer, Congratulations on the Promotion, Merry Christmas, Happy Hanukkah, John 3:16, etc.)
| | |
| --- | --- |
| Autograph? | |
| If above yes,To whom and what said? | |
For payment by check or money order, click here.
You may also pick up a copy at the Shoppingtown Mall in Syracuse, New York. Click here for details.
Express Lane to other Gold-Mountain productions.